Would you like to drink a cocktail from a rooftop vantage point with a stunning sea view and the beautiful spectacle of the city of Nice ? Well, there's nothing stopping you! Nice boasts numerous gorgeously-sited rooftop venues that are trendy and friendly in equal measure. These are Nice Shopping's top recommendations!
Calade Rooftop – Radisson Blu Hotel
For those wanting a bird's eye view of the Promenade des Anglais, the Calade Rooftop Restaurant Pool Bar & Lounge is the largest rooftop venue in Nice, nestled atop the Radisson Blu Hotel. With panoramic views over the city and the Baie des Anges, it's like you're floating between the sky and the sea as you savour Mediterranean cooking in a stylish and laid-back setting. In the evening, the Pool Bar serves up a wide selection of cocktails and tapas that are ideal for after-work drinks or an evening out with family or friends.
Opening schedules
All year round
Calade Rooftop Restaurant: from 12pm to 2.30pm and 7pm to 10.30pm
Pool Bar: from 9am to midnight
Lunch: 12pm to 5pm
Tapas and sharing platter: 5pm to 9pm
Amenities
Restaurant, bar, panoramic views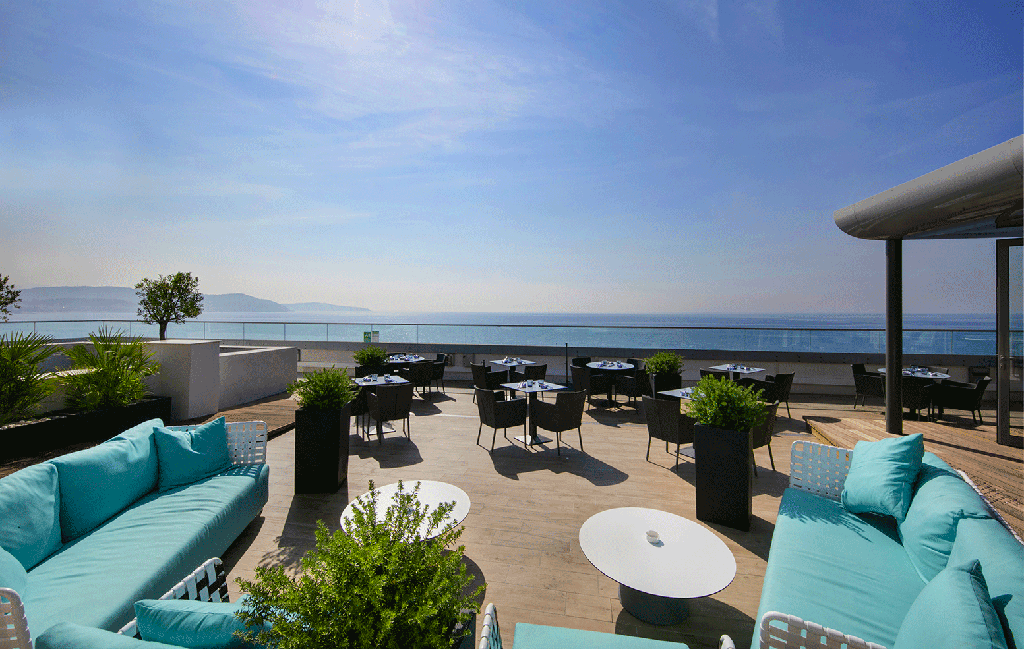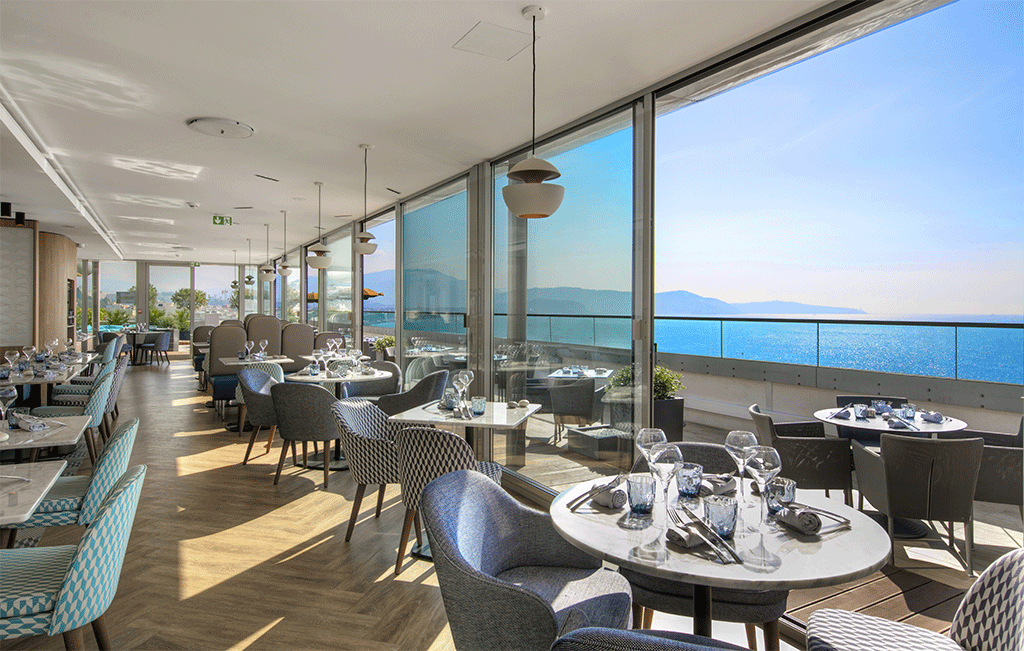 L'EssenCiel Bar – Le Splendid Hotel
Right in the middle of the Carré d'Or, this rooftop is open all year round and features something of a design twist – a rooftop terrace on three levels, two of which may be hired out for private functions (cocktail parties, receptions and more).
A comfortable venue in which to sip cocktails, draught beer and wine under the southern sun.
First-time and returning visitors to Nice alike will enjoy getting their bearings thanks to the orientation table on the 9th floor, which points out the hills, mountains and key sights visible from the EssenCiel.
Opening schedules
All year round from 12pm to 11pm
Amenities
Bar and bar food, panoramic views with an orientation table. Happy Hour from 6pm to 8pm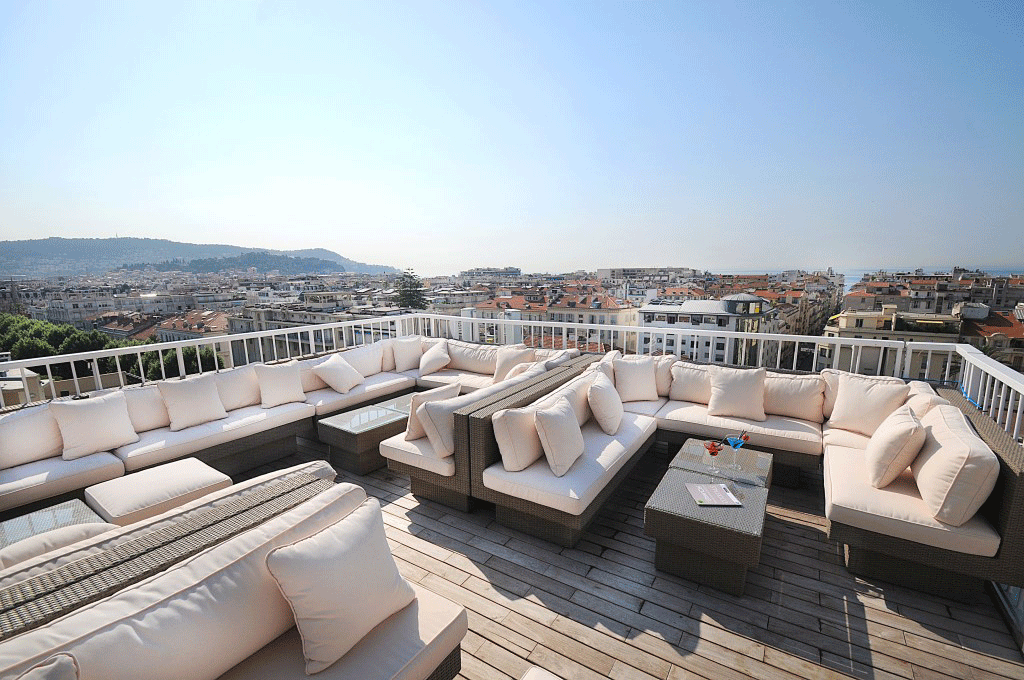 Rooftop La Réserve
La Reserve de Nice is a rooftop with a difference. Its intimate vibe combines with impressive views and sophisticated dining.
Located in a prime spot facing the sea and Mont Boron, this rooftop restaurant wins plaudits for its refined summer menu and sophisticated, but unshowy after-work drinks, all backed up by the culinary expertise of La Reserve restaurant.
Opening schedules
From May to mid-October, 12.15pm to 10pm
Good-value summer-time menu served from 12.15pm to 4pm
Amenities
Restaurant, bar, panoramic views
La Réserve de Nice, 60 boulevard Franck Pilatte, Nice
Bookings at 04 97 08 14 80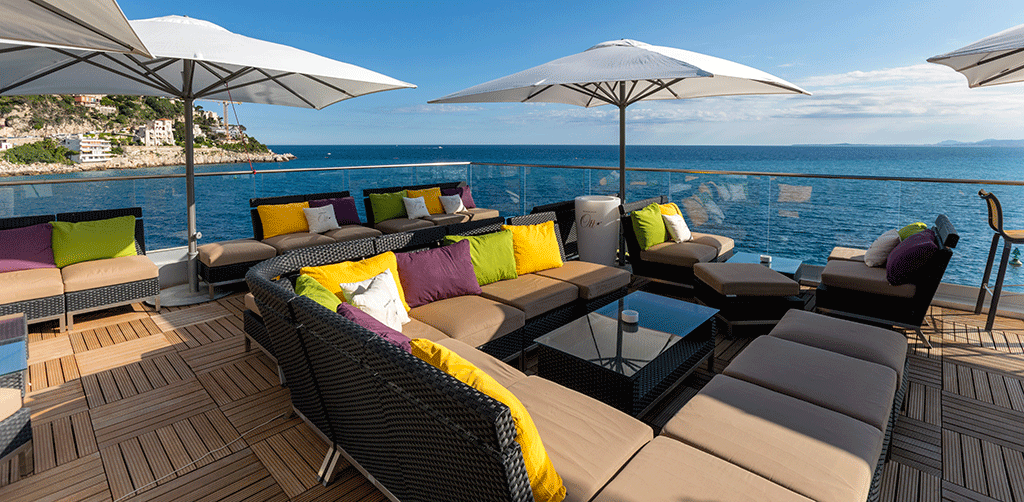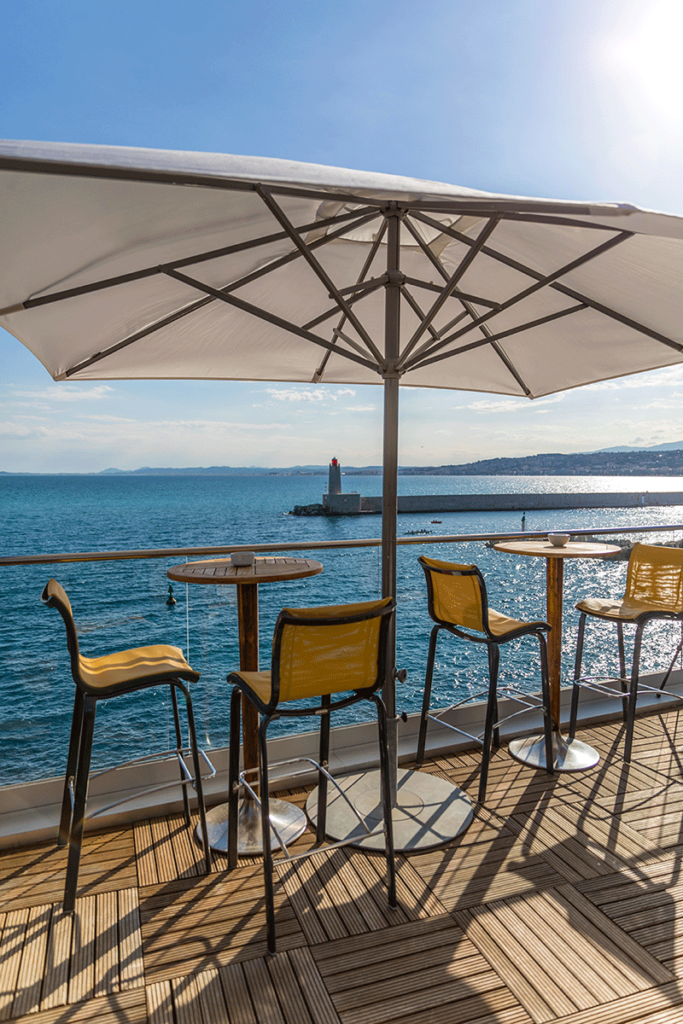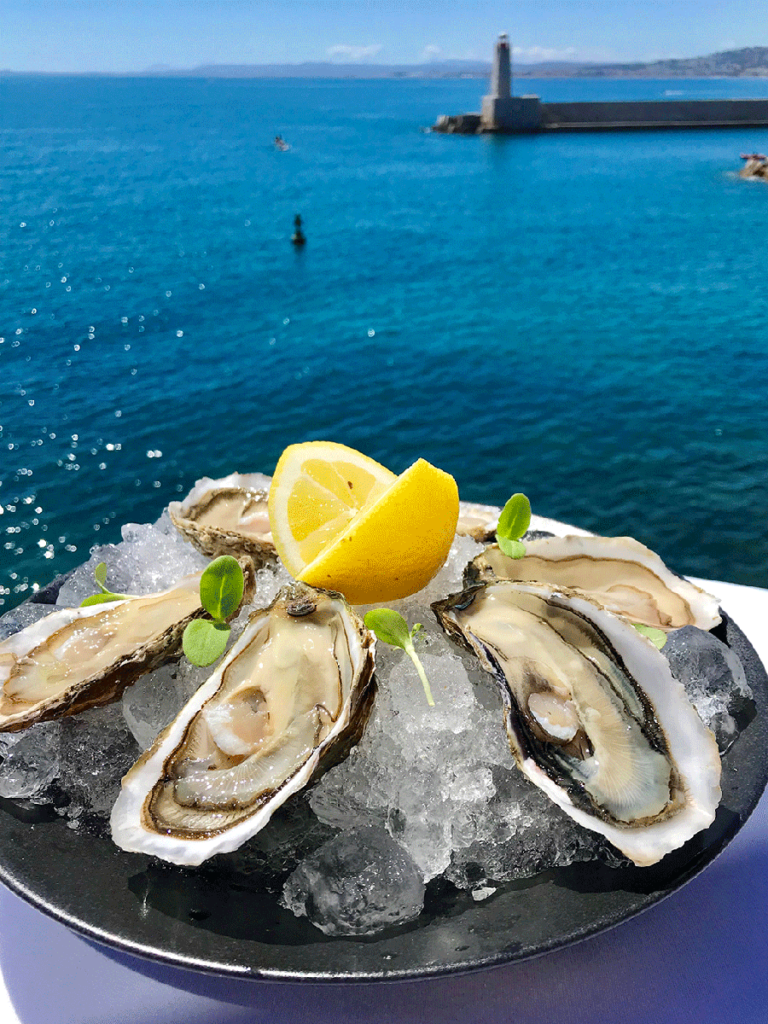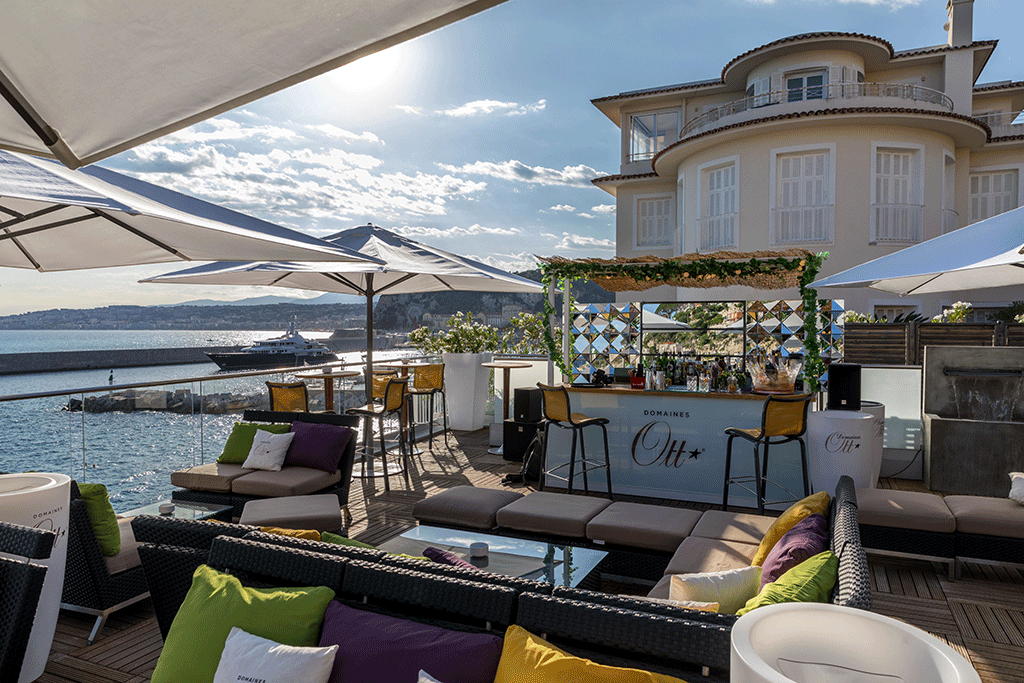 La Terrasse – Le Meridien Hotel
La Terrasse, the Meridien's rooftop venue, exudes a southern vibe with its panoramic views over the Baie des Anges, Vieux Nice and the Albert 1er park.
Up to the end of September, the Meridien's "Au Soleil" programme offers you a chance to revel in southern joie de vivre and all that's best about the south: Mediterranean tapas, rosé wine, innovative cocktails, heady music…
The setting is most definitely glamorous – and uber-stylish – inspired by the iconic beach club culture of the 1960s and enlivened by DJ sets (Thursdays and Fridays from 7pm to 11pm until mid-September) or saxophone concerts (every Wednesday until the end of August).
Opening schedules
Until October, from 8.30am to 11pm
Lunch served: from midday to 2.30pm
Evening meal (May to October): from 7pm to 10pm (10.30pm on Fridays and Saturdays)
Lounge bar (April to October) from 10 am to 11pm
Amenities
Restaurant, bar, panoramic view
Le Méridien, 1 Promenade des Anglais, Nice
Bookings at 04 97 03 40 37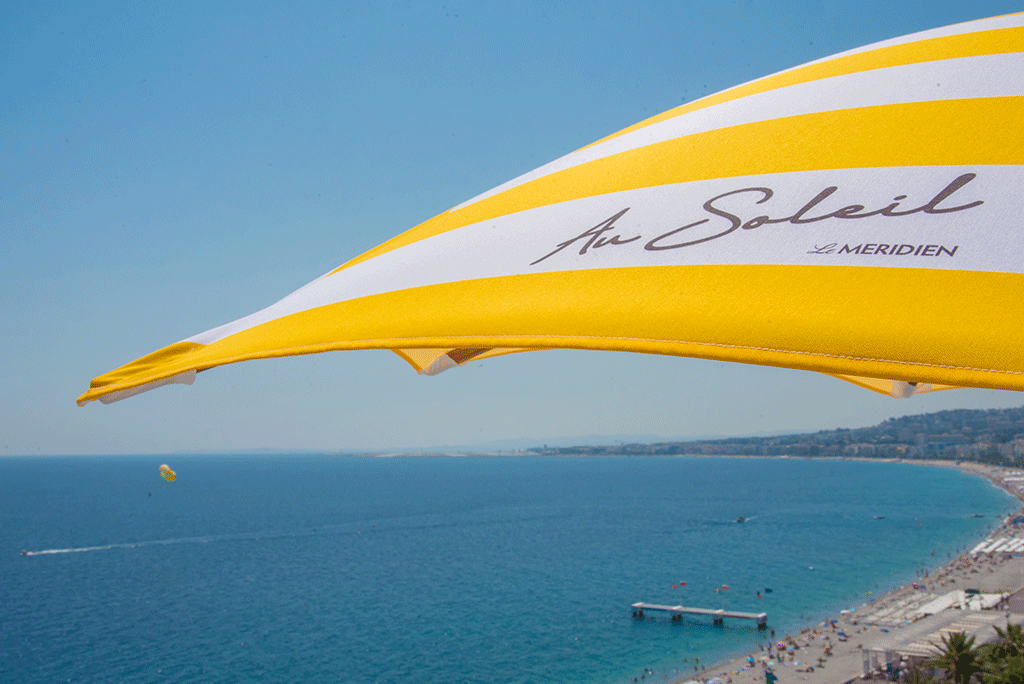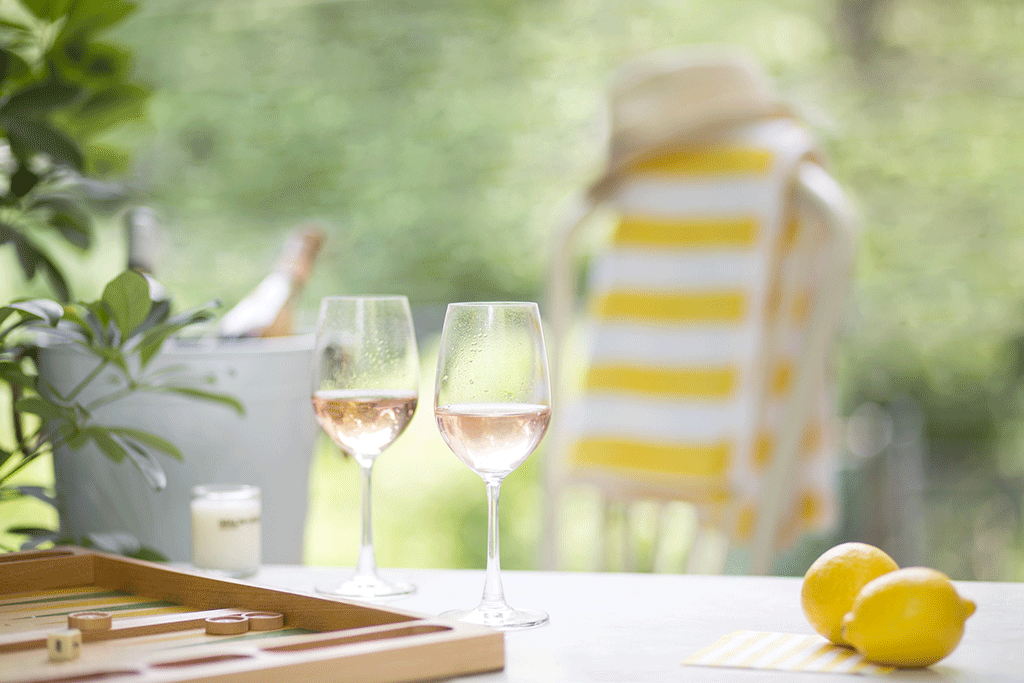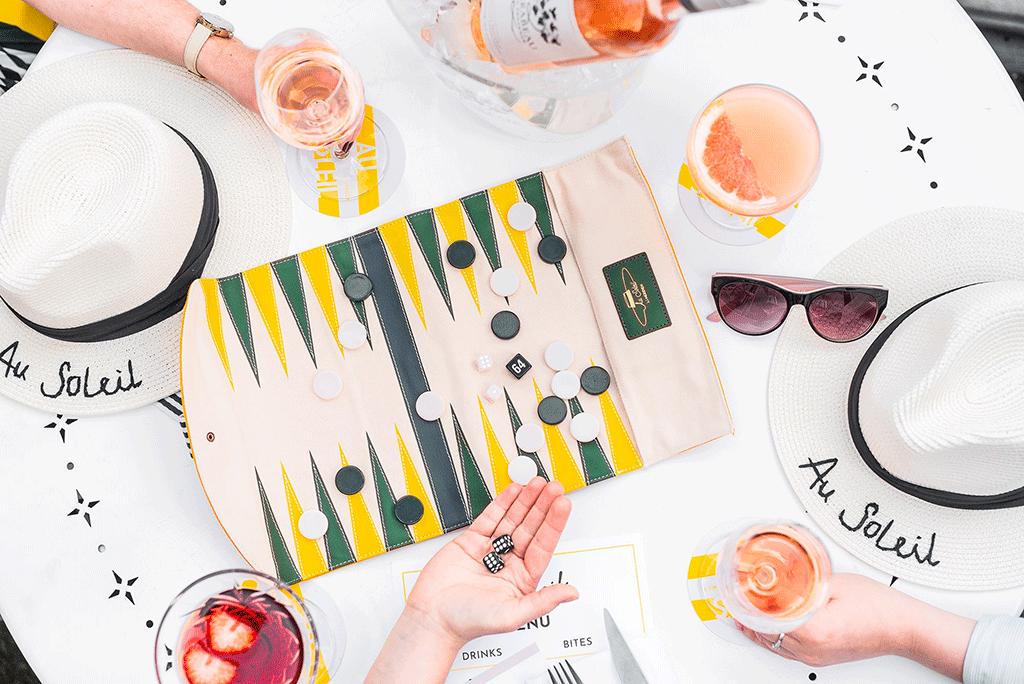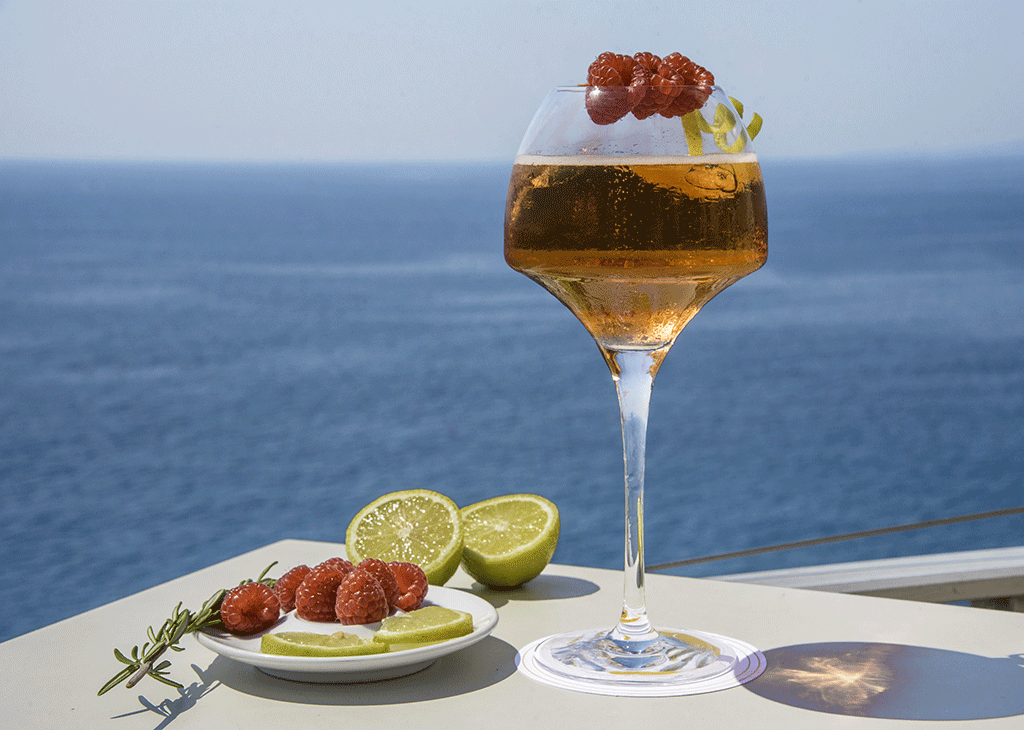 Farago on the Roof – AC Marriott Hotel
With 1,000m2 of roof terrace space boasting 360° views from Nice airport to Saint Jean Cap Ferrat, the cosy Farago on the Roof venue has become a favourite amongst rooftop fans in Nice!
Farago on the Roof marries good music, good food and a southern vibe. This trendy yet relaxed place has some of the best tapas in Nice. New executive chef Francesco Albanese has created a top-quality line-up of Mediterranean dishes, with particular attention paid to the ingredients used, which are AOC-certified and often organic – a way of respecting both culinary heritage and the animals themselves. The result is simple dishes underpinned by first-class produce.
Open to non-residents
Open in summertime until End of September (depending on the weather, may be open until the end of October) from midday to midnight.
Restaurant: open from 12pm to 2.30pm and 7pm to 10pm
Amenities
Bar Lounge serving snacks, restaurant, Gin Bar, panoramic views.
AC Marriott, 59 promenade des Anglais, Nice
Bookings at 04 93 97 74 41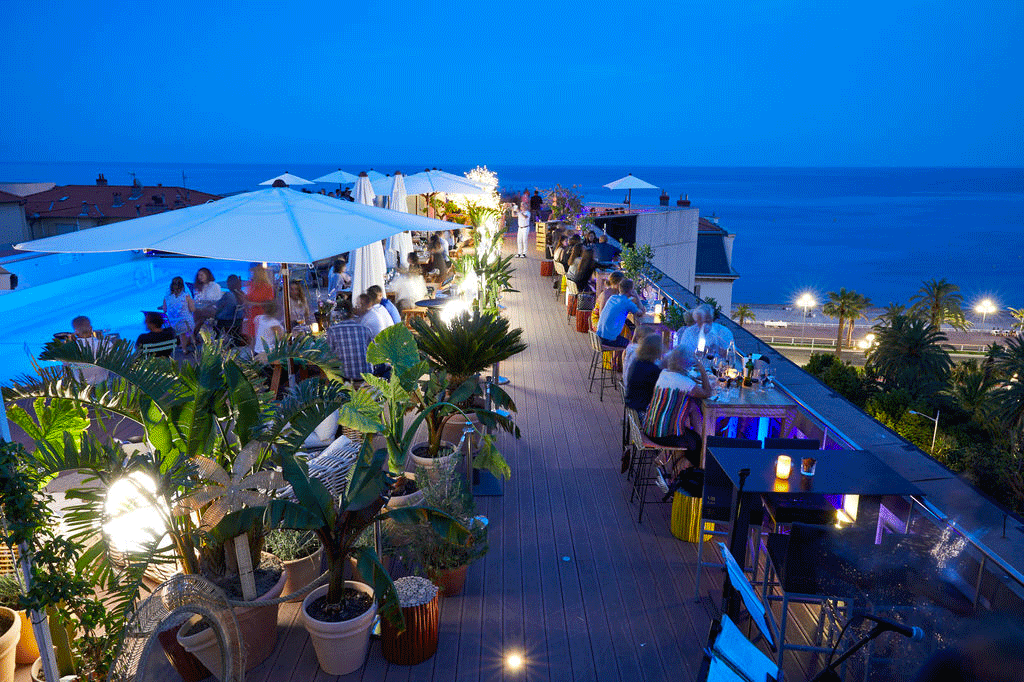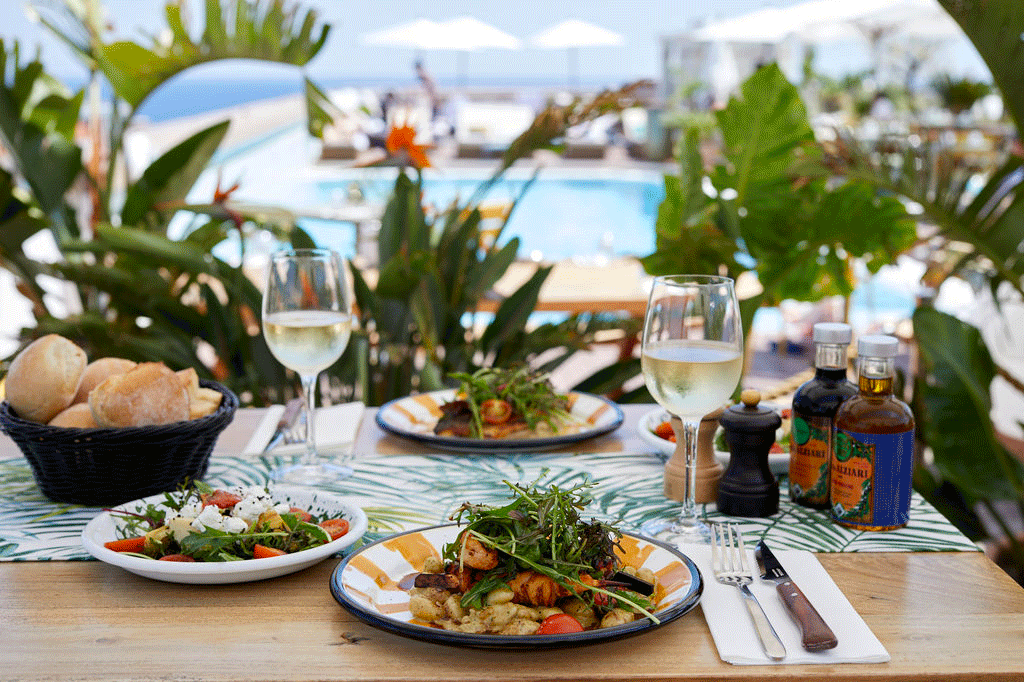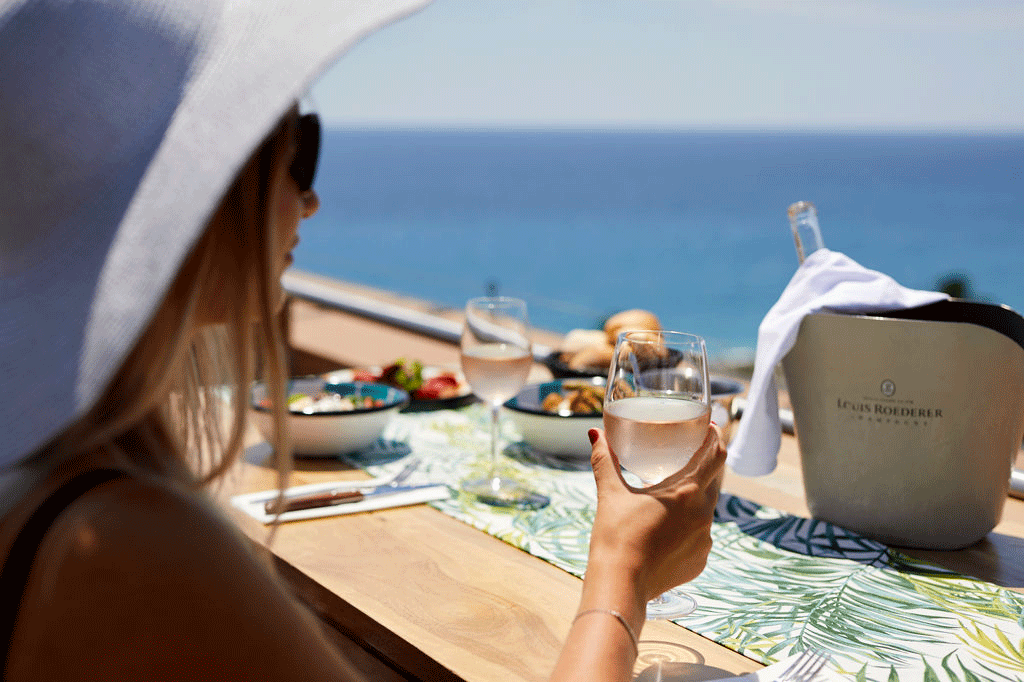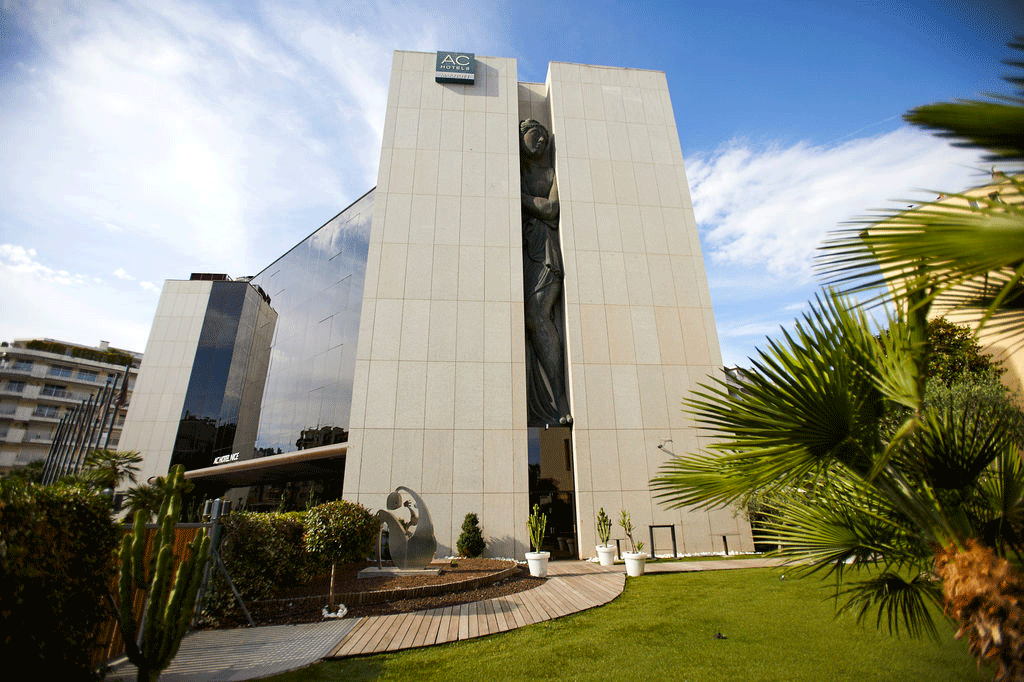 Rooftop 17 – Monsigny Hotel
Rooftop 17 is sited in the Liberation district. Its terrace has all-round views over the city's rooftops, markets and hills. Boasting a winningly relaxed, cosy vibe, it's even more congenial with live music and live cooking evenings. In addition to its delicious cocktails and tapas! The trendy, free-spirited ambiance imbues this rooftop venue with tremendous charm. What's more, it's the only rooftop venue in Nice to open its jacuzzi to the general public. Sounds like an absolute dream, doesn't it? It's definitely the kind of place most people would jump at the opportunity to visit!
Live music after-work event
Every evening from Thursday to Saturday, live music from 6.30 pm to 9pm.
Tuesdays and Wednesdays: Bossa Nova, Latino, Guitar music
Thursdays, Fridays and Saturdays: DJ Set
Tapas from around the world cooked in front of you and signature cocktails
Opening schedules
May to October from 12pm to midnight.
Amenities
Healthy, delicious lunches, snacks, live cooking, signature cocktails, after-work drinks, panoramic views, access to jacuzzi (15€ per person for 2 hours, includes a soft drink)
Hôtel Monsigny Nice***, 17 avenue Malaussena, Nice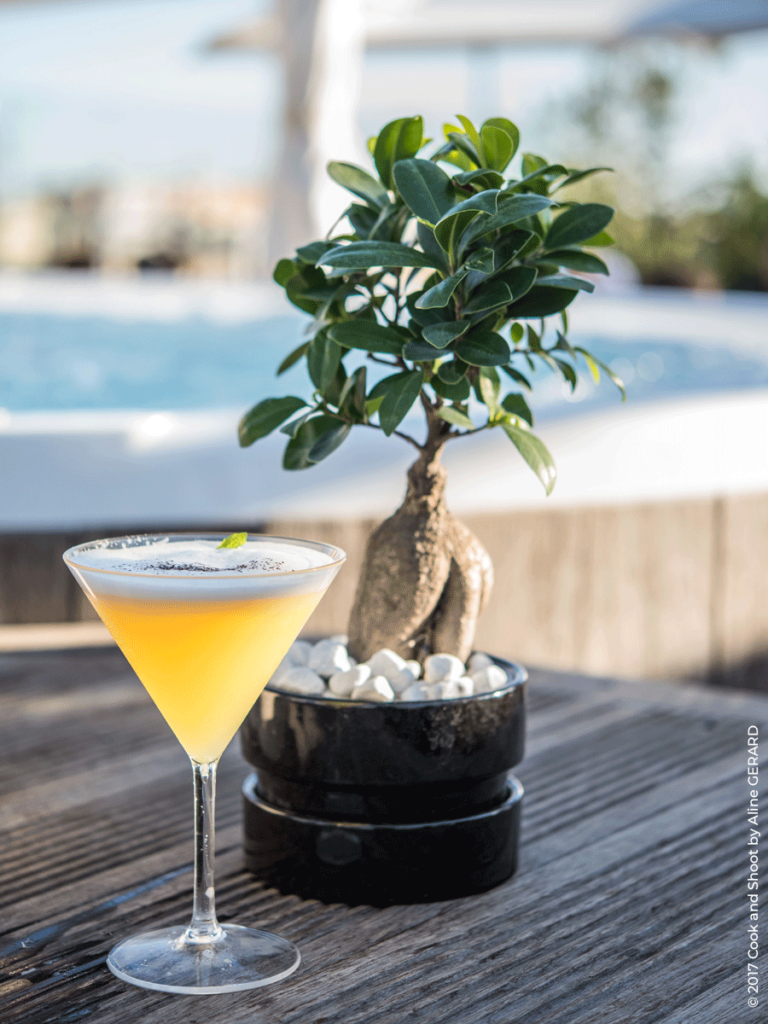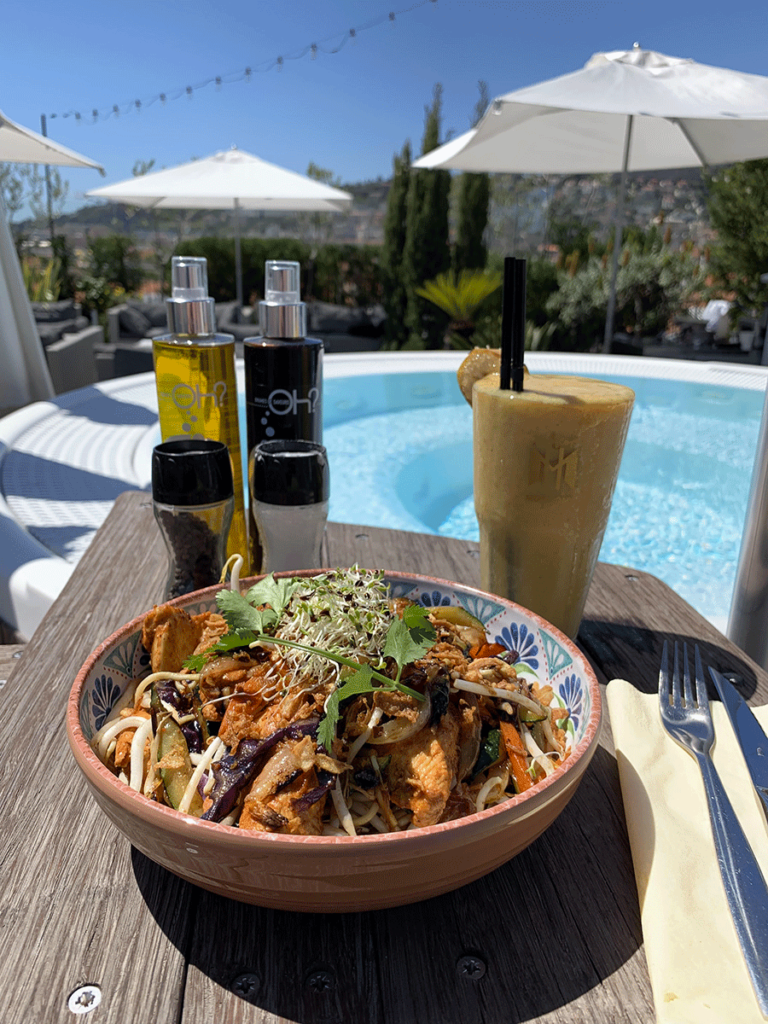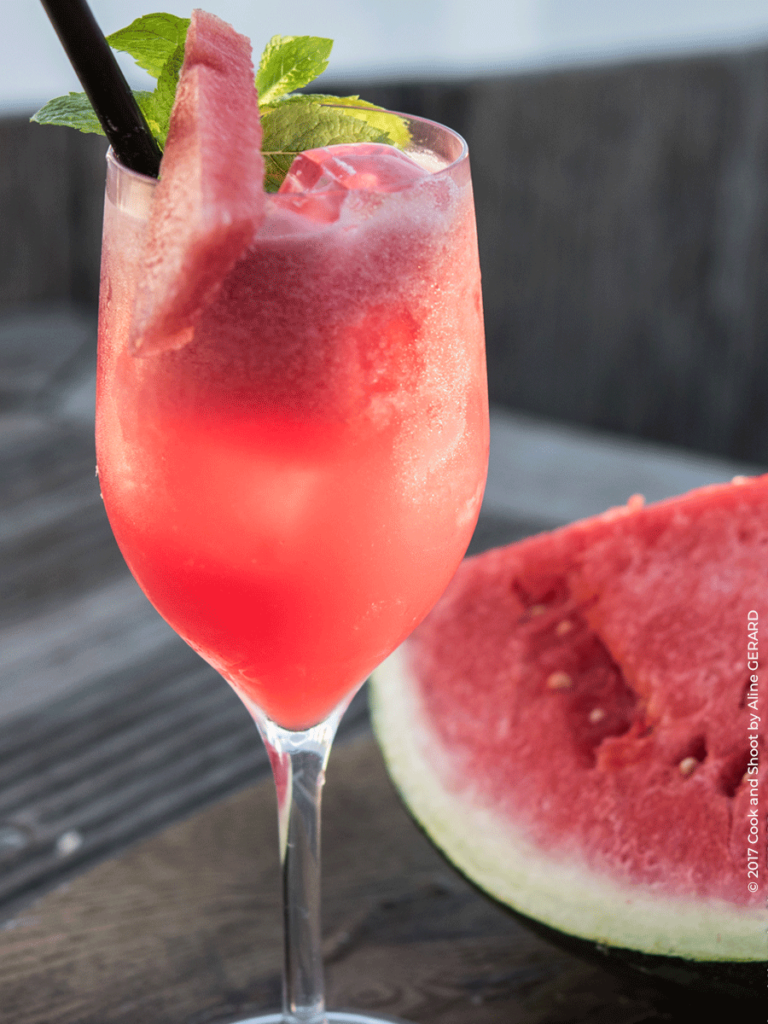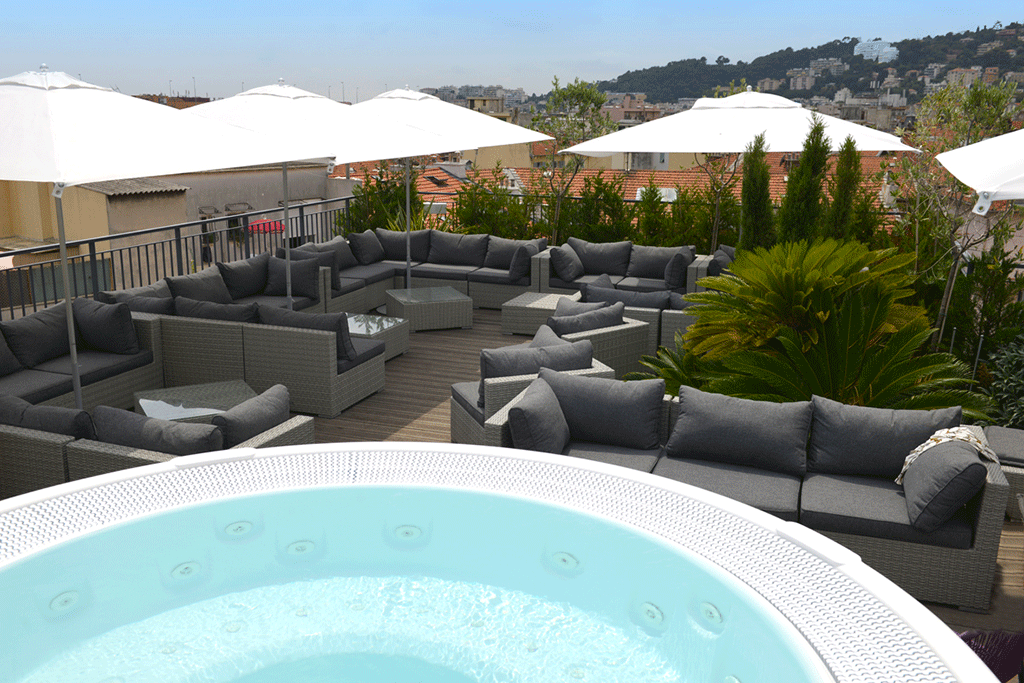 SkyLounge – Mercure Notre-Dame Hotel
Boasting a prime location in the heart of Nice, beside the Basilica of Notre-Dame de Nice on Avenue Jean Medecin, the SkyLounge re-opened on the top floor of the Mercure Hotel, at the beginning of summer 2019 and has undergone a complete – and very tasteful – transformation. The perfect place for a quick bite with work colleagues or after-work drinks, all in a very chilled atmosphere.
L'Apéro cosy aperitifs: every Friday evening until September.
This is a time to relax, with DJ-mixed music in the background (Chill, House and Deep-House), enabling you to unwind after the working week.
Opening schedules
All year round from 9am to midnight.
Amenities
Bar, snacks, panoramic views.
Hôtel Mercure Nice Centre Notre-Dame, 28 avenue Notre Dame, Nice
Bookings at 04 93 13 36 35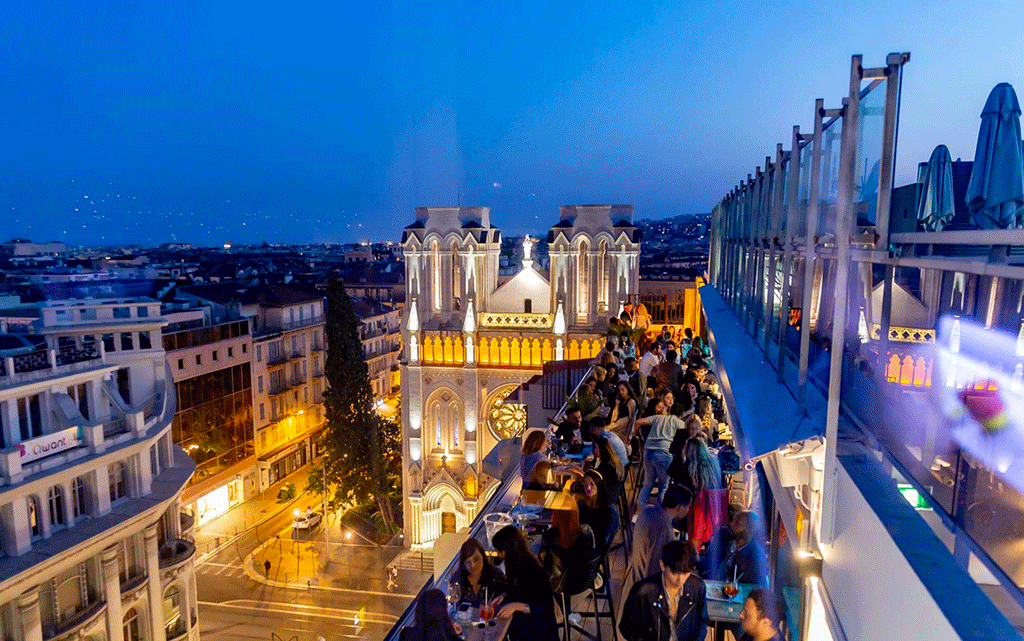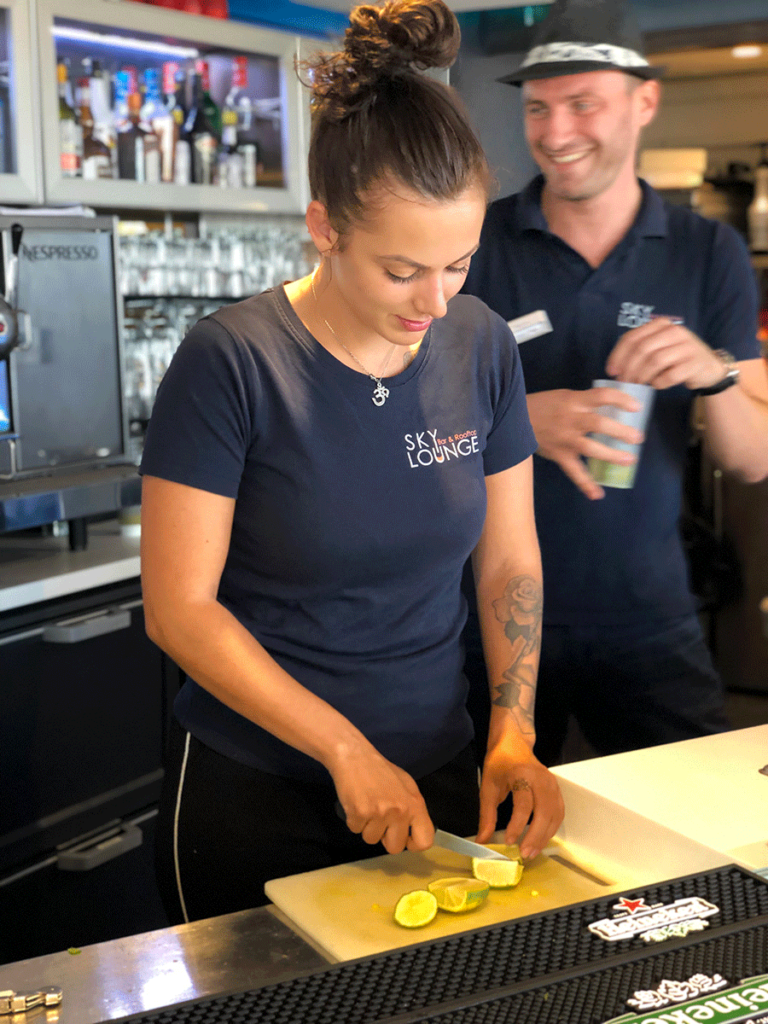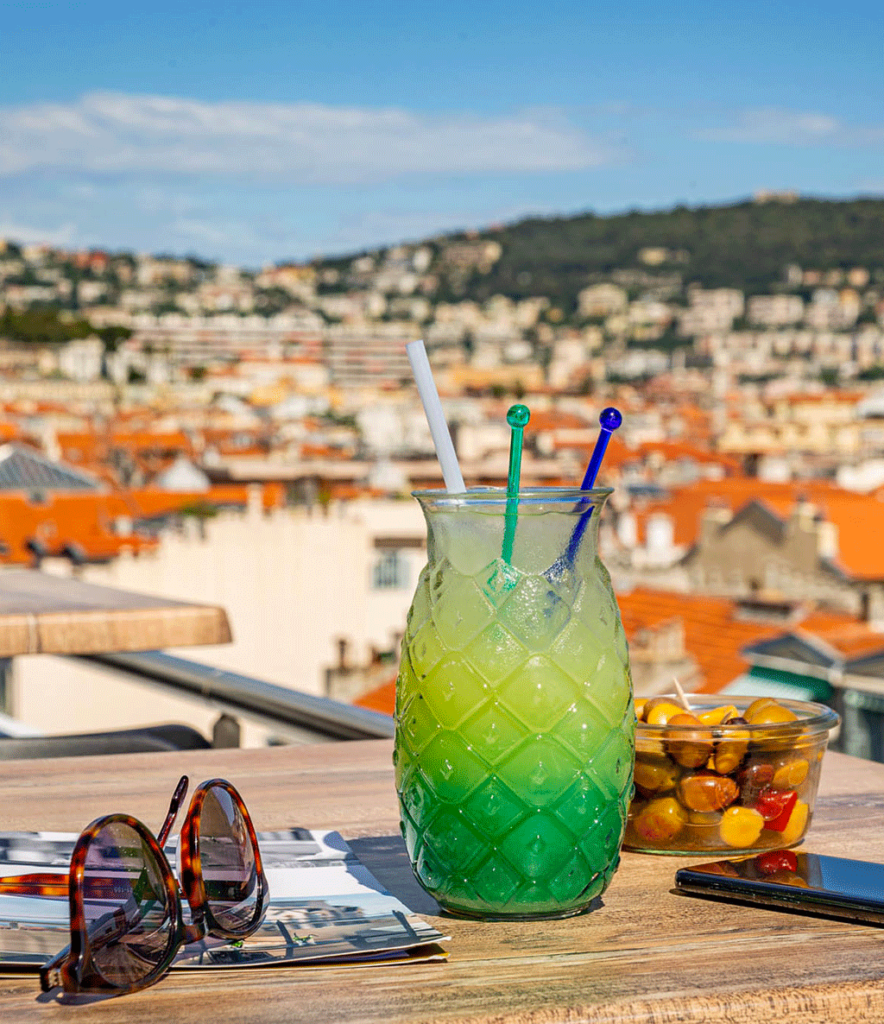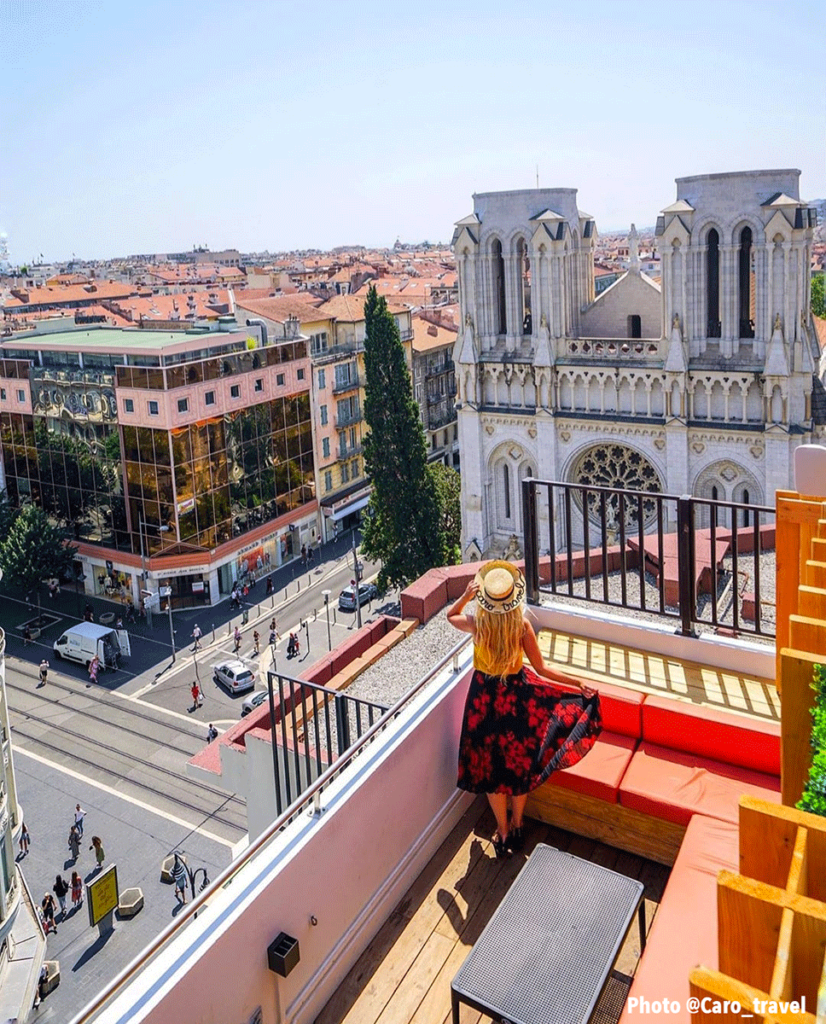 The Moon Bar – Aston La Scala Hotel
Last, but definitely not least on our list: The Moon Bar! A stone's throw from the Promenade du Paillon, on the top floor of the Aston La Scala Hotel. This rooftop venue has stunning views of Castle Hill and the old town.
Its watchwords are sunshine, light bites and relaxation! Sounds good, doesn't it?
During the day, enjoy the view and the restaurant. From 5pm on, the terrace turns into a lounge bar boasting delectable cocktails, delicious platters and tapas created by Chef Thierry Coutable.
From Wednesday to Sunday evening, between 7pm and 11.45pm, relax and let the fun begin with a little live music!
Opening schedules
All year round from 9am to midnight.
May to October (depending on weather conditions) from 7am to midnight.
Restaurant: open from 12pm to 2pm and 7pm to 10pm.
Amenities
Restaurant, bar, snacks, panoramic views.
Hôtel Aston La Scala, 12 avenue Félix Faure, Nice
Bookings at 04 92 17 53 09